QDC is a risk management software solution for hospitals, ambulatory surgery centers and long term care facilities.
QDC is a risk management software solution for hospitals, ambulatory surgery centers and long term care facilities that allows reporting, investigation, and trending of risk and quality-related events. It provides a cost-effective solution to identify areas of risk, as well as trend the effectiveness of performance and quality improvement initiatives.QDC is now a web-based application to much fanfare from our current clients. It allows incidents to be entered from any Internet capable device, automatic notifications to be emailed and multiple reviewers to investigate incidents without using paper.
Comprehensive
Includes reporting for complaints, employee injuries, equipment malfunctions, grievances and other items not normally included in risk management systems.
Includes 17 major categories with sub-categories and details.
User Friendly
Secure anonymous reporting from almost anywhere
Little education and training needed to implement
Managers can easily get involved by contributing to the investigations and viewing reports.
Easily notify managers of an incident for their input
Assign multiple reviewers electronically with automatic email notifications
Promotes dialog using the notes function
Simple on the front end reporting and initial investigation through the final review committee.
Reduce Risk, Improve Quality
Easily trend and identify problems.
Use the reports to easily drill down and pin-point problems
Monitor quality improvement impact
Cost Effective
The time savings to your risk management dept alone will more than cover the monthly subscription fee.
No extra "support fees"
No update fees
No initial setup fees
Efficient
Manage incidents from initial reporting, investigation to final committee review all electronically.
Manage incidents from initial reporting through investigation and final review without shuffling a stack of paper
Easily record staff involvement and assign standard of care
QDC Virtual Forum
The QDC Virtual Forum is a system of communication between forum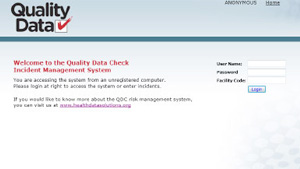 participants. Members can ask questions of the forum, the questions get distributed and a threaded discussion follows.
The requests cover a wide range, but the typical include:
Sample Policy and Procedures
Questions about state, Joint Commission and federal regulations
Advice about credentialing, documentation and peer review
If you would like to see the new QDC in action, then contact us so that we can demonstrate our system and earn your business.
Features
Comprehensive
User Friendly
Reduce Risk, Improve Quality
Cost Effective
Efficient
Identify Risks
Improve regulatory capabilities
"
I like asking questions on the user's forum because I know the answers are coming from people who are in hospitals just like mine. The people who respond have many years of experience and have been through some of the same things I am going through. I also learn a lot from reading the answers to questions sent in by other users as well.
"

Linnae Coker RN, Sabetha Community Hospital